2019  EVENTS
Saturday Evening Bible Study
Inspired Wholeness Ministries conducts Bible Studies on Saturdays. Please join us on Saturdays, 7:00 pm at 4114 SW Belshaw Street, Port St. Lucie, Fl. 34953. All are invited (men and women all ages; married or unmarried).
April:
Women's/Men's Getaway Conference 2019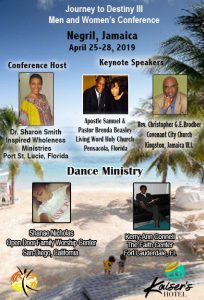 Upcoming Women's/Men's Getaway Conference has been changed to Treehouse Resort in Negril, Jamaica WI, April 25-28 2019.  Reservations are being accepted up until March 22, 2019. Flyers are posted on Facebook and Instagram.  You can also make your deposit below by using PayPal.
WE HOPE TO SEE YOU THERE!!!